Thanks to everyone who entered my giveaway. I have picked the winners! THREE winners listed at the end of this post.
Now for some MANLY sewing! I recently discovered a new store -
Whipstitch.
There is a storefront in the Atlanta area, which I MUST go check out. But there is an
online store
too. I bought some MANLY fabric to try and make something MANLY for my hubby for Father's Day.
Ok - nuts and bolts on fabric? Too cool. And I swear it's cooler in real life.
I ordered three fabrics and actually squealed when I got them. SO pretty. There are so many cool fabrics in this shop. I love all three I ordered more than I did when I saw them online, and MUST buy more. I am giddy about visiting the shop!
Anyway, what to make for the love of my life?

A potholder of course!
(another blurry Blackberry photo - which actually might be making my work look better? Blurry may be my wonky stitching friend!)

See, men cook too. My husband is great at Shake n Bake and Mac N Cheese. And we have to protect his fingers when he is channelling his inner gourmet.
My tutorial for making a potholder is
here
.
Although this time, I made the potholder square and tried to square up the corners. They aren't awesome, but practice makes perfect and I'll keep working on it. I am however, pretty happy with the square quilting I stitched. I just used the presser foot as the guide and it worked out great. The backing and bias tape binding are an unbleached cotton muslin.
Also for Father's Day, from the NBC store I bought hubby this hat:
(He loves this show -Friday Night Lights)
And some tickets to see a comedian we both like. AND - he's playing golf Saturday and being taken out to breakfast Sunday morning. (After he finds
his silly TP message
, haha) He's a wonderful Father and he deserves to have a nice Father's Day weekend.
Now to the giveaway!
I decided when I posted the giveaway that I would pick 3 people to win. The first person to comment, the last person to comment, and one random. I think more winners is more fun!

So...the first comment was this:
CupCakeCutie
said...
very sweet of you. Loved the picture of your little girl. I just finished a ton of destashing projects so some fabric or ribbon would be cool. It's always fun to see what other people pick out.
The last was this:
Lil' Miss Handy Pants
said...
If I won I would want YOU to pick so that it would be a surprise....I love the not knowing part:) jessicaleeperkins@hotmail.com
And this was my random pick:
Jenna Wood
said...
We could use a 'sleeping' 'not sleeping' door hanger for the nursery!six_one_nine_girlie86 (at) yahoo (dot) com
Congratulations!
I will choose your prizes over the weekend and mail them off as soon as possible after I get your mailing info. Jenna, you may have to wait a little but for your prize because I have to figure out how to make it!
IF any of you have any ideas about projects I can sew for a MAN, please let me know. I had a hard time thinking of something I could make for my sweetie - would love some ideas!
And as always, your comments are so appreciated. Each one is like a piece of chocolate!

Have a lovely weekend everyone.
Janimal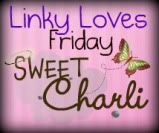 "